Hello Sofistik community,
I need some help understanding punching shear results.
As seen below, the table (i.e. from reports) has AssSum with **** and -. It is defined in the description (second image) that **** means 'proof of punching shear not provided' . As a result, we (my structural engineering colleagues) have redesigned only the rows with **** in AssSum.


Now as part of my automation job, I need to filter the available Punching shear directly from the database(CDB). Despite this, the CDB actually does not have a column for AssSum but just 4 additional columns with some names in it (ASV1, ASV2, ASV3, ASV4).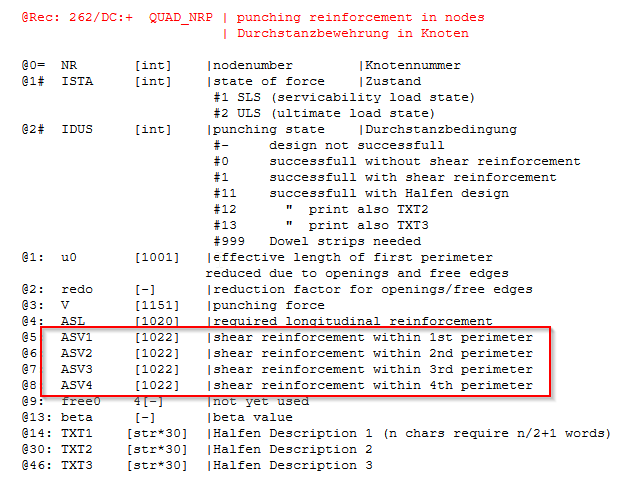 So, my questions are:
Is the sum of (ASV1,ASV2,ASV3,ASV4) = AssSum ?

If yes, Would you please tell me how I can categorize them after summation into **** and - (What is the differentiation factor for **** and -)

If not, How can I obtain AssSum from CDB?

Alternatively, if all the above are not possible, how can anyone identify the critical nodes manually (assuming there is no filtering (****) available in the report) ?
Anykind of information helps me a lot!! Thanks in advance for your response!!