Hello everyone,
For a project I would like to make a calculation for a H beam where the height is variable.
In SofiPLUS it is possible to do this, like in the picture below: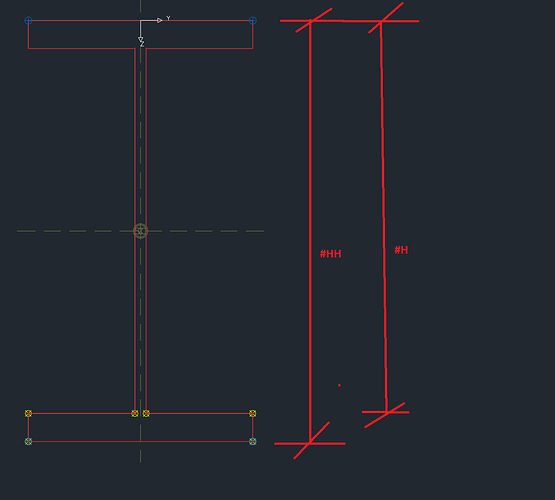 The section seems to be right, as the output to SSD is also right. My concern is that the aqua and cross section calculation takes a long time to complete (couple of minutes whereas the meshing is set at 5m. More elements to be added to the model).
I would like to have a number of beams next to each other, with a very long length (~150m). I am surprised that this calculation takes so long, as the calculation with a standard H beam takes a few seconds. The parametric section contains only 6 stations. Am I doing something wrong with Teddy / variables or do these kinds of cross-sections simply take a long time to calculate?
Thanks in advance.
Teddy:
+PROG SOFIMSHC
HEAD
PAGE UNII 0
SYST 3D GDIR NEGZ GDIV -1000
CTRL INIT 7
CTRL TOLG 0.010000
CTRL MESH 1
CTRL HMIN 5.0000
CTRL TOPO GAXP 0
CTRL NODE 1000

GAX AI0 TYPE LANE
 GAXB X1 0.00000000 0.00000000 0.00000000 S1 0.00000000  X2 129.00000000 0.00000000 0.00000000 S2 1.00000000 

LET#S_ACT 0.00
GAXV AI0 NAME 'H' S 0.1 V 8000
GAXV AI0 NAME 'H' S 0.2 V 9000
GAXV AI0 NAME 'H' S 0.3 V 8500
GAXV AI0 NAME 'H' S 0.4 V 7500
GAXV AI0 NAME 'H' S 0.5 V 9000
GAXV AI0 NAME 'H' S 0.9 V 8000
GAXV AI0 NAME 'HH' S 0.1 V 7900
GAXV AI0 NAME 'HH' S 0.2 V 8900
GAXV AI0 NAME 'HH' S 0.3 V 8400
GAXV AI0 NAME 'HH' S 0.4 V 7400
GAXV AI0 NAME 'HH' S 0.5 V 8900
GAXV AI0 NAME 'HH' S 0.9 V 7900

GAXP AI0 S 0.1 TYPE 'A'
GAXP AI0 S 0.2
GAXP AI0 S 0.3
GAXP AI0 S 0.4
GAXP AI0 S 0.5
GAXP AI0 S 0.9 TYPE 'E'

GAX AI1 TYPE LANE
 GAXB X1 0.00000000 -10.00000000 0.00000000 S1 0.00000000  X2 129.00000000 -10.00000000 0.00000000 S2 1.00000000 

LET#S_ACT 0.00
GAXV AI1 NAME 'H' S 0.1 V 8000
GAXV AI1 NAME 'H' S 0.2 V 9000
GAXV AI1 NAME 'H' S 0.3 V 8500
GAXV AI1 NAME 'H' S 0.4 V 7500
GAXV AI1 NAME 'H' S 0.5 V 9000
GAXV AI1 NAME 'H' S 0.9 V 8000
GAXV AI1 NAME 'HH' S 0.1 V 7900
GAXV AI1 NAME 'HH' S 0.2 V 8900
GAXV AI1 NAME 'HH' S 0.3 V 8400
GAXV AI1 NAME 'HH' S 0.4 V 7400
GAXV AI1 NAME 'HH' S 0.5 V 8900
GAXV AI1 NAME 'HH' S 0.9 V 7900

GAXP AI1 S 0.1 TYPE 'A'
GAXP AI1 S 0.2
GAXP AI1 S 0.3
GAXP AI1 S 0.4
GAXP AI1 S 0.5
GAXP AI1 S 0.9 TYPE 'E'

GAX AI2 TYPE LANE
 GAXB X1 0.00000000 -20.00000000 0.00000000 S1 0.00000000  X2 129.00000000 -20.00000000 0.00000000 S2 1.00000000 

LET#S_ACT 0.00
GAXV AI2 NAME 'H' S 0.1 V 8000
GAXV AI2 NAME 'H' S 0.2 V 9000
GAXV AI2 NAME 'H' S 0.3 V 8500
GAXV AI2 NAME 'H' S 0.4 V 7500
GAXV AI2 NAME 'H' S 0.5 V 9000
GAXV AI2 NAME 'H' S 0.9 V 8000
GAXV AI2 NAME 'HH' S 0.1 V 7900
GAXV AI2 NAME 'HH' S 0.2 V 8900
GAXV AI2 NAME 'HH' S 0.3 V 8400
GAXV AI2 NAME 'HH' S 0.4 V 7400
GAXV AI2 NAME 'HH' S 0.5 V 8900
GAXV AI2 NAME 'HH' S 0.9 V 7900

GAXP AI2 S 0.1 TYPE 'A'
GAXP AI2 S 0.2
GAXP AI2 S 0.3
GAXP AI2 S 0.4
GAXP AI2 S 0.5
GAXP AI2 S 0.9 TYPE 'E'

GAX AI3 TYPE LANE
 GAXB X1 0.00000000 -30.00000000 0.00000000 S1 0.00000000  X2 129.00000000 -30.00000000 0.00000000 S2 1.00000000 

LET#S_ACT 0.00
GAXV AI3 NAME 'H' S 0.1 V 8000
GAXV AI3 NAME 'H' S 0.2 V 9000
GAXV AI3 NAME 'H' S 0.3 V 8500
GAXV AI3 NAME 'H' S 0.4 V 7500
GAXV AI3 NAME 'H' S 0.5 V 9000
GAXV AI3 NAME 'H' S 0.9 V 8000
GAXV AI3 NAME 'HH' S 0.1 V 7900
GAXV AI3 NAME 'HH' S 0.2 V 8900
GAXV AI3 NAME 'HH' S 0.3 V 8400
GAXV AI3 NAME 'HH' S 0.4 V 7400
GAXV AI3 NAME 'HH' S 0.5 V 8900
GAXV AI3 NAME 'HH' S 0.9 V 7900

GAXP AI3 S 0.1 TYPE 'A'
GAXP AI3 S 0.2
GAXP AI3 S 0.3
GAXP AI3 S 0.4
GAXP AI3 S 0.5
GAXP AI3 S 0.9 TYPE 'E'

GAX AI4 TYPE LANE
 GAXB X1 0.00000000 -40.00000000 0.00000000 S1 0.00000000  X2 129.00000000 -40.00000000 0.00000000 S2 1.00000000 

LET#S_ACT 0.00
GAXV AI4 NAME 'H' S 0.1 V 8000
GAXV AI4 NAME 'H' S 0.2 V 9000
GAXV AI4 NAME 'H' S 0.3 V 8500
GAXV AI4 NAME 'H' S 0.4 V 7500
GAXV AI4 NAME 'H' S 0.5 V 9000
GAXV AI4 NAME 'H' S 0.9 V 8000
GAXV AI4 NAME 'HH' S 0.1 V 7900
GAXV AI4 NAME 'HH' S 0.2 V 8900
GAXV AI4 NAME 'HH' S 0.3 V 8400
GAXV AI4 NAME 'HH' S 0.4 V 7400
GAXV AI4 NAME 'HH' S 0.5 V 8900
GAXV AI4 NAME 'HH' S 0.9 V 7900

GAXP AI4 S 0.1 TYPE 'A'
GAXP AI4 S 0.2
GAXP AI4 S 0.3
GAXP AI4 S 0.4
GAXP AI4 S 0.5
GAXP AI4 S 0.9 TYPE 'E'

GAX AI5 TYPE LANE
 GAXB X1 0.00000000 -50.00000000 0.00000000 S1 0.00000000  X2 129.00000000 -50.00000000 0.00000000 S2 1.00000000 

LET#S_ACT 0.00
GAXV AI5 NAME 'H' S 0.1 V 8000
GAXV AI5 NAME 'H' S 0.2 V 9000
GAXV AI5 NAME 'H' S 0.3 V 8500
GAXV AI5 NAME 'H' S 0.4 V 7500
GAXV AI5 NAME 'H' S 0.5 V 9000
GAXV AI5 NAME 'H' S 0.9 V 8000
GAXV AI5 NAME 'HH' S 0.1 V 7900
GAXV AI5 NAME 'HH' S 0.2 V 8900
GAXV AI5 NAME 'HH' S 0.3 V 8400
GAXV AI5 NAME 'HH' S 0.4 V 7400
GAXV AI5 NAME 'HH' S 0.5 V 8900
GAXV AI5 NAME 'HH' S 0.9 V 7900

GAXP AI5 S 0.1 TYPE 'A'
GAXP AI5 S 0.2
GAXP AI5 S 0.3
GAXP AI5 S 0.4
GAXP AI5 S 0.5
GAXP AI5 S 0.9 TYPE 'E'

GAX AI6 TYPE LANE
 GAXB X1 0.00000000 -60.00000000 0.00000000 S1 0.00000000  X2 129.00000000 -60.00000000 0.00000000 S2 1.00000000 

LET#S_ACT 0.00
GAXV AI6 NAME 'H' S 0.1 V 8000
GAXV AI6 NAME 'H' S 0.2 V 9000
GAXV AI6 NAME 'H' S 0.3 V 8500
GAXV AI6 NAME 'H' S 0.4 V 7500
GAXV AI6 NAME 'H' S 0.5 V 9000
GAXV AI6 NAME 'H' S 0.9 V 8000
GAXV AI6 NAME 'HH' S 0.1 V 7900
GAXV AI6 NAME 'HH' S 0.2 V 8900
GAXV AI6 NAME 'HH' S 0.3 V 8400
GAXV AI6 NAME 'HH' S 0.4 V 7400
GAXV AI6 NAME 'HH' S 0.5 V 8900
GAXV AI6 NAME 'HH' S 0.9 V 7900

GAXP AI6 S 0.1 TYPE 'A'
GAXP AI6 S 0.2
GAXP AI6 S 0.3
GAXP AI6 S 0.4
GAXP AI6 S 0.5
GAXP AI6 S 0.9 TYPE 'E'

GAX AI7 TYPE LANE
 GAXB X1 0.00000000 -70.00000000 0.00000000 S1 0.00000000  X2 129.00000000 -70.00000000 0.00000000 S2 1.00000000 

LET#S_ACT 0.00
GAXV AI7 NAME 'H' S 0.1 V 8000
GAXV AI7 NAME 'H' S 0.2 V 9000
GAXV AI7 NAME 'H' S 0.3 V 8500
GAXV AI7 NAME 'H' S 0.4 V 7500
GAXV AI7 NAME 'H' S 0.5 V 9000
GAXV AI7 NAME 'H' S 0.9 V 8000
GAXV AI7 NAME 'HH' S 0.1 V 7900
GAXV AI7 NAME 'HH' S 0.2 V 8900
GAXV AI7 NAME 'HH' S 0.3 V 8400
GAXV AI7 NAME 'HH' S 0.4 V 7400
GAXV AI7 NAME 'HH' S 0.5 V 8900
GAXV AI7 NAME 'HH' S 0.9 V 7900

GAXP AI7 S 0.1 TYPE 'A'
GAXP AI7 S 0.2
GAXP AI7 S 0.3
GAXP AI7 S 0.4
GAXP AI7 S 0.5
GAXP AI7 S 0.9 TYPE 'E'

GAX AI8 TYPE LANE
 GAXB X1 0.00000000 -80.00000000 0.00000000 S1 0.00000000  X2 129.00000000 -80.00000000 0.00000000 S2 1.00000000 

LET#S_ACT 0.00
GAXV AI8 NAME 'H' S 0.1 V 8000
GAXV AI8 NAME 'H' S 0.2 V 9000
GAXV AI8 NAME 'H' S 0.3 V 8500
GAXV AI8 NAME 'H' S 0.4 V 7500
GAXV AI8 NAME 'H' S 0.5 V 9000
GAXV AI8 NAME 'H' S 0.9 V 8000
GAXV AI8 NAME 'HH' S 0.1 V 7900
GAXV AI8 NAME 'HH' S 0.2 V 8900
GAXV AI8 NAME 'HH' S 0.3 V 8400
GAXV AI8 NAME 'HH' S 0.4 V 7400
GAXV AI8 NAME 'HH' S 0.5 V 8900
GAXV AI8 NAME 'HH' S 0.9 V 7900

GAXP AI8 S 0.1 TYPE 'A'
GAXP AI8 S 0.2
GAXP AI8 S 0.3
GAXP AI8 S 0.4
GAXP AI8 S 0.5
GAXP AI8 S 0.9 TYPE 'E'

SPT 1001 X 0.00000000 0.00000000 0.00000000 FIX PXPYPZMXMYMZ
SPT 1004 X 0.00000000 -10.00000000 0.00000000 FIX PXPYPZMXMYMZ
SPT 1007 X 0.00000000 -20.00000000 0.00000000 FIX PXPYPZMXMYMZ
SPT 1010 X 0.00000000 -30.00000000 0.00000000 FIX PXPYPZMXMYMZ
SPT 1013 X 0.00000000 -40.00000000 0.00000000 FIX PXPYPZMXMYMZ
SPT 1016 X 0.00000000 -50.00000000 0.00000000 FIX PXPYPZMXMYMZ
SPT 1019 X 0.00000000 -60.00000000 0.00000000 FIX PXPYPZMXMYMZ
SPT 1022 X 0.00000000 -70.00000000 0.00000000 FIX PXPYPZMXMYMZ
SPT 1025 X 0.00000000 -80.00000000 0.00000000 FIX PXPYPZMXMYMZ
SPT 1002 X 129.00000000 0.00000000 0.00000000 FIX PXPYPZMXMYMZ
SPT 1005 X 129.00000000 -10.00000000 0.00000000 FIX PXPYPZMXMYMZ
SPT 1008 X 129.00000000 -20.00000000 0.00000000 FIX PXPYPZMXMYMZ
SPT 1011 X 129.00000000 -30.00000000 0.00000000 FIX PXPYPZMXMYMZ
SPT 1014 X 129.00000000 -40.00000000 0.00000000 FIX PXPYPZMXMYMZ
SPT 1017 X 129.00000000 -50.00000000 0.00000000 FIX PXPYPZMXMYMZ
SPT 1020 X 129.00000000 -60.00000000 0.00000000 FIX PXPYPZMXMYMZ
SPT 1023 X 129.00000000 -70.00000000 0.00000000 FIX PXPYPZMXMYMZ
SPT 1026 X 129.00000000 -80.00000000 0.00000000 FIX PXPYPZMXMYMZ
SLN 1003 GRP - SNO 2 DRX 0.000000 0.000000 -1.000000 STYP B REF 'AI0' NPA 1001 NPE 1002
SLN 1006 GRP - SNO 2 DRX 0.000000 0.000000 -1.000000 STYP B REF 'AI1' NPA 1004 NPE 1005
SLN 1009 GRP - SNO 2 DRX 0.000000 0.000000 -1.000000 STYP B REF 'AI2' NPA 1007 NPE 1008
SLN 1012 GRP - SNO 2 DRX 0.000000 0.000000 -1.000000 STYP B REF 'AI3' NPA 1010 NPE 1011
SLN 1015 GRP - SNO 2 DRX 0.000000 0.000000 -1.000000 STYP B REF 'AI4' NPA 1013 NPE 1014
SLN 1018 GRP - SNO 2 DRX 0.000000 0.000000 -1.000000 STYP B REF 'AI5' NPA 1016 NPE 1017
SLN 1021 GRP - SNO 2 DRX 0.000000 0.000000 -1.000000 STYP B REF 'AI6' NPA 1019 NPE 1020
SLN 1024 GRP - SNO 2 DRX 0.000000 0.000000 -1.000000 STYP B REF 'AI7' NPA 1022 NPE 1023
SLN 1027 GRP - SNO 2 DRX 0.000000 0.000000 -1.000000 STYP B REF 'AI8' NPA 1025 NPE 1026


END

+PROG AQUA
HEAD
INTE 0
END