Hi there, I have a short question.
Is it possible in a bending schedule for bars to display the parameters A and B with decimal numbers?
For instance, when looking at the following image: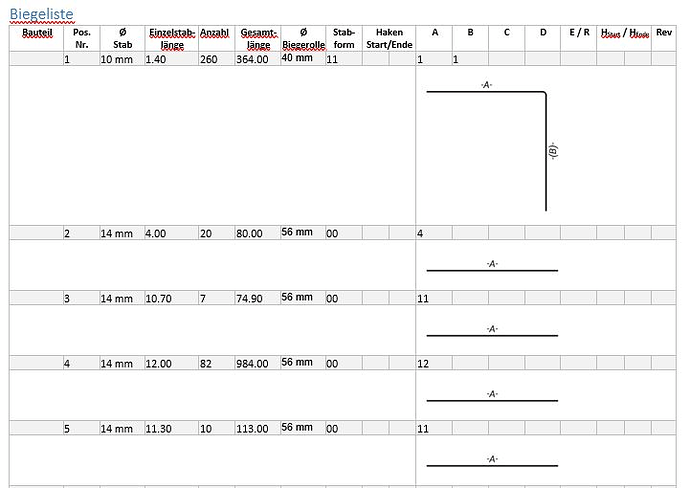 Bar 1 has a length of 1.4m, but the two parameters A and B are both 1m, adding up to 2m in total …
I'm unsure of where to find the setting for printing these parameters, I have looked into the Stli.ini and stli.000 files and I think it might be in this block of settings;
[BiegeListeStabDIN/BendingListBarDIN]
Millimeter=0
Bendingshape_mm=-1
BLZusatz/BLAdition=0
FormX1dxdy=1
FormX1Angle=1
Bendingshape=1
Position= 1   90    Pos.|
Stueck= 2   90    Stk.|
Durchm= 3   80    d|
Laenge= 4  130    Länge|
Rollen_dm= 5   70    dbr|ds
Form_typ= 6   50    Typ|
Biegeform= 7  900    Biegeform|
Gesamtlg= 8  150    Ges.L|
Gewicht= 9  150    Gewicht|kg
Faktor=0.3
PosFakt=1.0
Dim_a= 1  100    A
Dim_b= 2  100    B
Dim_c= 3  100    C
Dim_d= 4  100    D
Dim_e= 5  100    E
Dim_h= 6  100  H

However, changing the Bendingshape_mm setting doesn't seem to help and also seems to be missing from the documentation.
Does anyone have any experience with this issue?