Hello
I have noticed the Reinforcement Generation Tool is not available for Revit 2023. Instead, there is only a Reinfocement 2023 Tool, which does not contain all the Create Tools for slabs, beams and walls:

2022 tools

2023 tools
Was the Reinforcement Detailing 2022 combined to the Reinforcement generation Tool?
If so, are there fewer options on the create tool? In the 2022 version, I was also able to generate reinforcement for slabs and beams.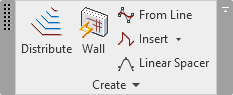 Thank you