How could I get the most unfavorable loading with the NBR 7188 (brazilian code) load train? I've been testing a lot of options, but I think the software isn't moving the load train in the transverse direction to get the most unfavorable forces.
My superstructure has 12,20 meters of width for the vehicle to move and I've tried setting only one notional lane (of width of 12,20 meters) and put the load train so it could move freely inside this notional lane, but it doesn't seem to be how the module works, as it seems that the vehicle isn't moving along the superstructure width to get the most unfavorable case to get the maximum values of the forces;
Another try was to set notional lanes with 3 meters of width and put the load train in each of them (my bridge has 12.2 meters of width in which the vehicle can move and the load train has 3 m of width); although it does get to a more approximate result, it doesn't seem that the program is getting the most unfavourable forces for that load train — it seems that the program is just taking the most unfavourable case between the 4 cases that I set (the load train moving in each of the notional lanes that I tried), and not the location that causes the most unfavorable forces in beam elements. What is the correct workflow for that case? The second try is attached. Note that the distribution of loads of the brazilian load train differs from the eurocode.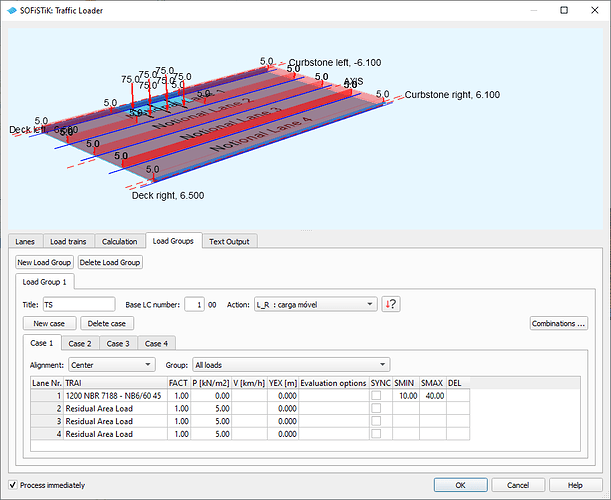 Thanks in advance!