Dear all,
I am student of architecture and I am currently working on Gridshells using Asymptotic Curves on Minimal Surfaces.
Currently I am working on describing structural behaviour. For that, I would like to use Sofistik, as all my
setup is done in Grasshopper. I use Softstik for the first time and after watching intro Tutorials and scanning the manuals some questions still remained open for me:
In order to test the setup I modelled a very simple version of the construction principle.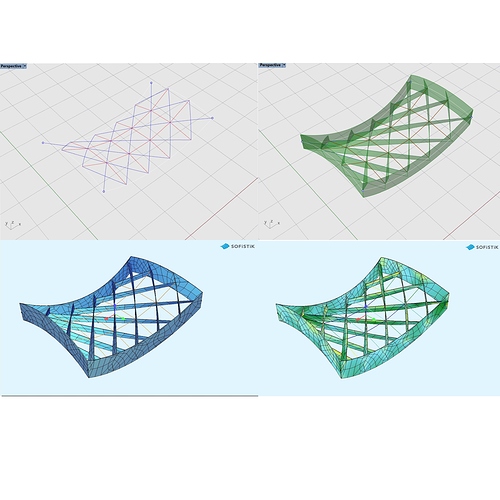 The export works well, also the first animation behaviour seems, although I get some warnings, plausible.
The "inner" Beams are initially bent and twisted. I saw the ACTB in the manual, however I am not able to implement this.
Does the ACTB only work for Structural lines? If yes, how would you discretisize the beams and model the torsion? (The beams are oriented normal to a Design Surface, so we have the vectors for Z- orientation, but the Structural Line component does not align to several z-Directions.
Or does the ACTB also work for structural areas? Additionally how would it be possible to implement Torsion?
It would be great if you could help me with those questions, any input would be highly appreciated!
New users cannot attach files, therefore one may, in case needed, find all files at the following link:
Thank you for your help!