This is a bowstring beam model in Dlubal RFEM, the span is 14m, the height is 3m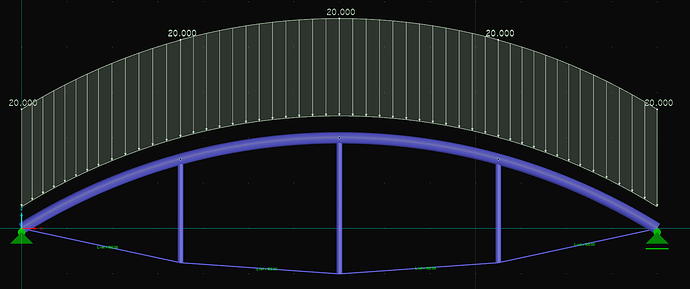 the cross section of top chord is a pipe (D=250mm, t=25mm),
the cross section of vertical bar is a pipe (D=120mm, t=6mm),
the bottom string is a circular section with D=25mm.
The top chord has 20kN/m load, while the bottom strings are prestressed.
The equilibrem state is define by there is no (very small) vertical displacments under the above loads.
The key to the form-finding is to set the relative length of string to 100%, because there is no vertical displacement, the stressed length of the strings should be the same as that in the model.


The vertical displament of the equilibrem state is below, the max displacement is only 1.2mm


.
How to achieve it in Sofistik?