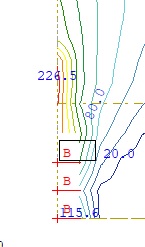 how to resolve this ?
Hello
I am sorry but without any further information I can't give you a clear solution.
I would check whether the finite elements are created correctly.
Try to find discontinuities within the corresponding loadcases or inner forces.
Perhaps you find some warnings or error messages within the report browser.
If you are working with the TEDDY, you can compare your program code with one of our examples.
TEDDY > File > Examples > bemess > english > bemess1_all_sls_design_checks.dat
Best regards
Frederik Höller
Your SOFiSTiK Support Team