Hello,
I'm currently studying another active-bending structure (membrane + frp profiles) and I was wondering why I got no equilibrium during the first formfinding step. I wonder if it is a problem with the structure definition.
I already tried reducing the FMAX to a minium, increasing the iterations to 900, decreasing the tolerance but always I get no equilibrium in the structure.
Then I checked the example ASE - active_bending - active_bending_membrane and I got the impression that also there is no equilibrium during the first formfinding step. Is this normal? Why does it happen?
In the example that i was talking, the last iteration information is: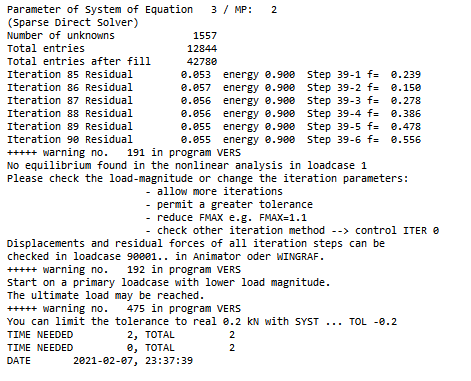 In my structure I can't get stability in formfinding no mater what.
Can you please help me by telling me what I am missing ou?
I've tried to upload the model but I couldn't do it directly, so I leave a link here for download:
Thank you!